"Top 10 Accounts Payable and Receivable Solution Providers in Europe – 2019" certificate and partly transcribed text from the original article, "Saphety: Powering the Era of E-invoicing and EDI", published by CFO Tech Outlook, in July.
Saphety at the Top 10 Accounts Payable and Receivable Solution Providers in Europe – 2019
"In today's digital ecosystem, therefore, it has become critical for CIOs to choose proper technology and select best vendors that are at the forefront of efficiently tackling the challenges across the accounts payable and receivable realm. To help CIOs negotiate this new burgeoning landscape, CFO Tech Outlook's distingui
shed panel comprising of CEOs, CIOs, VCs, industry analysts along with its editorial board have reviewed the top accounts payable and receivable solution providers and shortlisted the ones spearheading the charge towards fulfilling the urgent demands of the industry. The listing offers a look at how these solutions are put to use, thereby enabling business leaders to gain a comprehensive knowledge as to how they can strategize growth."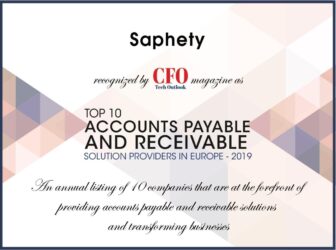 Powering the Era of E-invoicing and EDI 
Saphety, with an experience of almost two decades now, is a leading provider of electronic data interchange (EDI), electronic invoicing, and data synchronization solutions. With a mission to empower customers to continuously enhance their business processes, the company's solutions maximise efficiency, innovation, and sustainability while reducing costs. Serving over 5000 clients worldwide, Saphety enables corporate customers to split invoices according to their cost centres and analyse all invoice dimensions using a BI solution. Most often, companies have to coexist with paper, PDF and electronic invoices for processing payments.
"We have developed a set of mechanisms that allows companies to automate invoice processing regardless of the original format," says Rui Fontoura, CEO of Saphety.
Saphety offers a robust digital invoice solution set comprising electronic invoicing network and EDI, electronic bill presentment, and electronic invoice financing. The EDI and electronic invoicing network allow companies to send and receive documents like purchase orders, forms and invoices to and from clients and suppliers, in a dematerialised way, complying with all legal and business requirements.
(…)
Full article published on CFO Tech Outlook, in 07/2019.
URL: https://www.saphety.com/latest-news/press-clipping/cfo-tech-outlook/saphety-powering-the-era-of-e-invoincing-and-edi
URL: https://accounts-payable-and-receivable-europe.cfotechoutlook.com/vendor/saphety-powering-the-era-of-einvoicing-and-edi-cid-341-mid-44.html